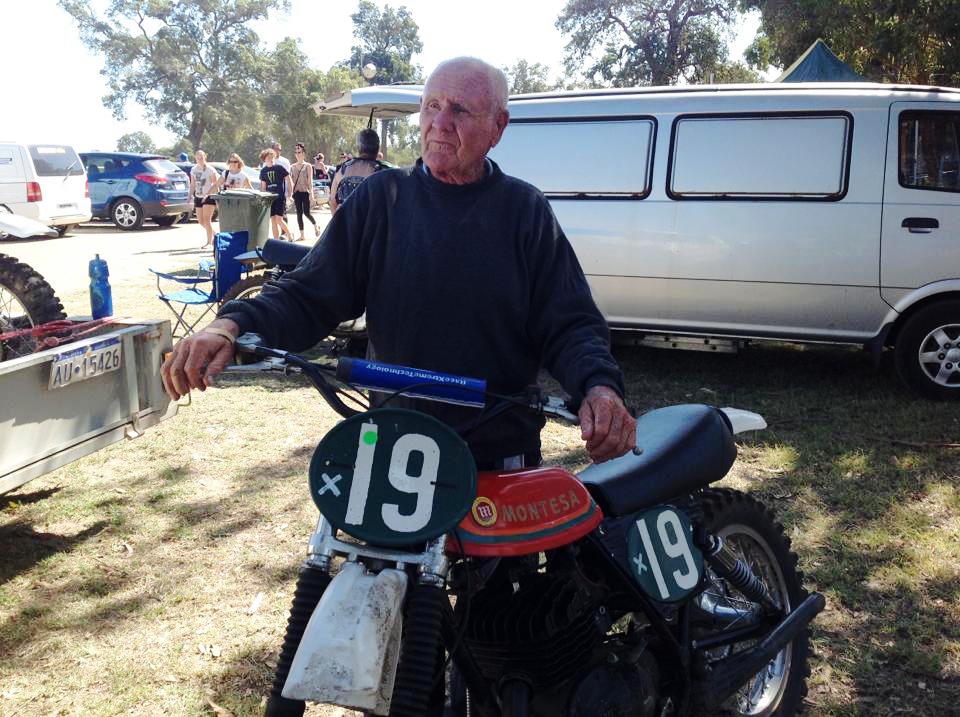 Lightweight Motorcycle Club is a 70 years young club, founded way back in 1952. Its name 'Lightweight' is derived from the fact that only motorbike's with maximum capacities up to 250cc's were initially allowed to ride and compete.
In the early days, the club did not have its own grounds and track, instead the club held events at various locations, most commonly on private rural properties, with the club largely dependent on the landowner's generosity and support.
During these early years, riders would travel down south to Collie, as well as all the way up to Lancelin to attend Lightweight events. Other locations included the Salt Flats in Baldivis, where they would do a quarter-mile time trial with the motorbikes competing for the trophy.
In the early 1970's, under the leadership of Geoff and Sue Underwood, a group of Lightweight members decided the best way forward for the club had to include a place to call home for the club and members. This group started to look around for suitable properties and whilst scouting for the best places, they met up with Mr Don Hendley, who owned a sizeable property just outside Byford, which had previously been used as a gravel pit and therefore could not be built on commercially.
After many conversations with Don, where the Underwood's spoke enthusiastically about their hopes, aspirations and dreams for the club, through some further negotiations, Don Hendley offered the use of a large space on his property for club to establish a motocross racing venue. The club committee obtained approval to use this parcel of land from 1974. The following year, after a lot of hard work, blood, sweat and maybe even a few tears, the first motocross track was opened for racing events in 1975. That is the land area where Lightweight is located today.
The core group of volunteers around this time were all extremely dedicated to the club and its long-term success, with Terry O'Leary as Club Treasurer, Terry happily remained in the role for 25 years alongside Ron Tyers as Club Secretary for 30 years. Support and maintenance work around the club and track was always completed by volunteers, whom made use of whatever materials and equipment they had on hand or what was donated to them. All of whom helped keep the club operating, holding countless events and financially viable over many significant years.
Don Hendley passed away in 1980. Don's property was acquired by the Pioneer Quarry Group and LandCorp took over the management of the land. In 1990, the then President of LWMCC, Ron Deadman, arranged to have the property transferred from LandCorp and vested with the Serpentine Shire Council, to be gazetted as a Motorcycle Off-Road Facility for the Lightweight Motorcycle Club.
From that point on, with the help and support of club members, volunteers and dedicated families, the club has grown, evolved and developed into what it is today, a vibrant club with strong junior and senior rider classes, and as a club always maintaining a keen interest in welcoming new riders and families from all walks of life and riding abilities, into what most certainly is a family-friendly motocross club with a strong supportive community vibe.
In closing, and as a tribute to Don, all past and present members, and every rider who has competed at the Lightweight motocross venue, acknowledges the generosity of the Late Don Hendley and we will remember this now and into the future, of the wonderful gift he has kindly left us all.
Life Members
Life Members are a great representation of the community spirit within our club and we'd like to acknowledge the time and dedication that these members have given to our club.
B White. T O'Leary. E Oliver. A Cox. A Squibb. Irwin Oliver. Ian Pickergill. Debbie Shaw. Ray & June Deane. Reg McKenny. A Milner. P Adams. Ray Long. Brent Campbell. S Bernstein. Dave Spedding. Ron & Maureen Tyers. Helen Shrimp. Vicki Smith. Peter Zahra. Rolley & Alison Norton. Tracey Simpson. Vicki Pollard. John Browne. Mario D'ercole (Snr). Graeme Scott. Kerrie Byrne